Published October 18, 2019
|
Animals
Have you ever wondered what it would be like to live in the middle of the savannah in Africa? Must be a surreal experience, with the sound of wild animals grazing in the background and surrounded by vegetation all around you. Lucky for you, that experience can be simulated right here in Bali at Mara River Safari Lodge!
With unique safari-themed rooms and access to panoramic views of the safari, you'll be right at the heart of the safari. One of the best perks of staying at Mara River Safari Lodge is the ability to see the animals of the safari right outside your windows and balcony!
Here are just some of the animals you can spot from Mara River Safari Lodge.
Zebra
One of the first animals you'll see over the balcony of your lodge at Mara River is none other than the Zebra! These African natives are easily distinguishable from the distance due to their iconic stripes; which, if you don't know already, are unique to each Zebra.
Rhino
If you're lucky, you may be able to spot the elusive White Rhinos in the safari. These gentle giants are the second largest mammal on the planet. Be sure to keep an eye out!
Elephant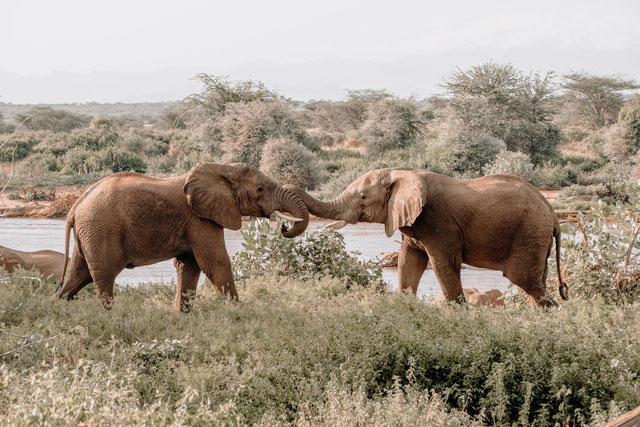 Everyone's favorite animal, the Elephant, is perhaps the easiest one to spot from your lodge due to being the biggest mammal species! Do you know which Elephant species are in Bali Safari Park? Find the answer when you go on our Safari Journey tram.
Wildebeest
The Wildebeest is a close friend of the Zebra. They're not related in anyway (aside from being mammals), but they often buddy up with Zebras to secure protection from predators like Lions and Hyenas.
Are you familiar with any of the animals listed above? You'll be able to observe them directly from the balcony of your safari lodge.  Some animals are rarer than others, so make sure you keep an eye out!
Are you ready to experience the most immersive accommodation in Bali? There are plenty of room options to choose from at Mara River Safari Lodge. Also, don't forget to book your reservation directly on our website to enjoy exclusive discounts and amenities!