When the sun goes down on Christmas Eve. Having a Night Safari at Bali Safari Park might be the best choice.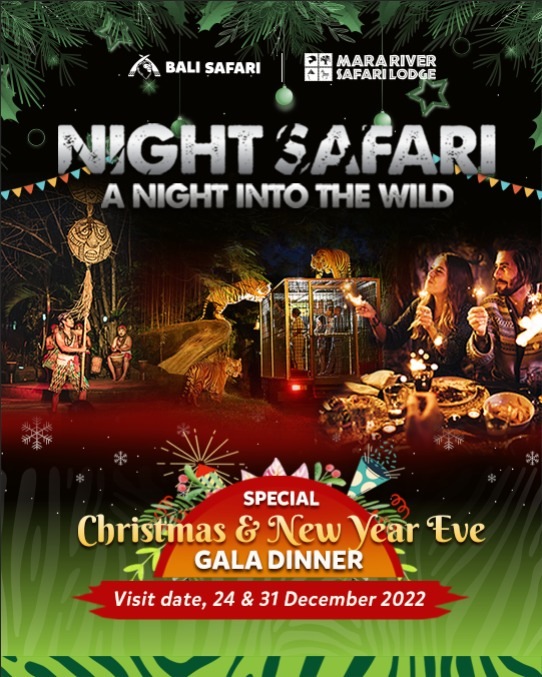 Special addition to our existing safari tour package, which give you a peak at the nightlife on Christmas Eve with your favorite animals.
SPECIAL NIGHT SAFARI CHRISTMAS EVE!
Is your adventurous type? Like going to the wilderness at night? – You must be very savvy about Night Safari, the activity which gives you a peek at the nightlife of wildlife.
Do you want to have Christmas Eve with a different atmosphere? The one and only destination who celebrates Christmas Eve with wildlife animals, Bali Safari Park would like to give you an unforgettable experience in Special Night Safari Christmas Eve on December 24th, 2022. Are you ready to get wild with us?
What Activities are Included in Night Safari Christmas Eve?
This package consists of a walking and journey tour to ride a special tram and see closer wildest carnivores. From witnessing zebras, elephants, and giraffes interact with each other in the dark, to watching the king of the jungle. Don't worry, the journey will be led by a professional guide that will tell you about the animal's education. It is definitely the main highlight which is nerve-wracking!
Christmas Eve Gala Dinner at Tsavo Lion Restaurant will pleasant your ambiance! There will be Santa Claus who will share a special Christmas gift to you, and a special performance African Rhythm Fire Dance which will be presented by a professional performer.
The Price and How to Book?
Please kindly book the entrance ticket in advance. Special Night Safari Christmas Eve Gala Dinner will be open every day starting from 05.30 pm – 09.00 pm, tickets can be purchased through official website or Reservation WhatsApp. With a price IDR 1,200,000 for adults and IDR 960,000 for children aged 3-12 years, you already can enjoy all the inclusions!
Don't forget to follow our social media Instagram for more special promo updates.
Already set your agenda to Bali Safari Park? Immediately feel the exciting and thrilling experience of Night Safari by clicking here!