It's always fun to visit Bali Safari Park in a pack, and you can get the best ticket price deals when you purchase your experiences in a package. Bali Safari has several packages you can choose. Not sure which one to pick? Don't worry, we'll give you an overview of what experiences you can expect from almost every package.
Okay, we say "almost every package" because some Bali Safaris packages are similar to one another in terms of what to expect, so we group them to be more concise. You'll see what we mean.
Head over to our online ticket booth to see the complete list of all the Park packages.
List of all the park packages
The Safari Journey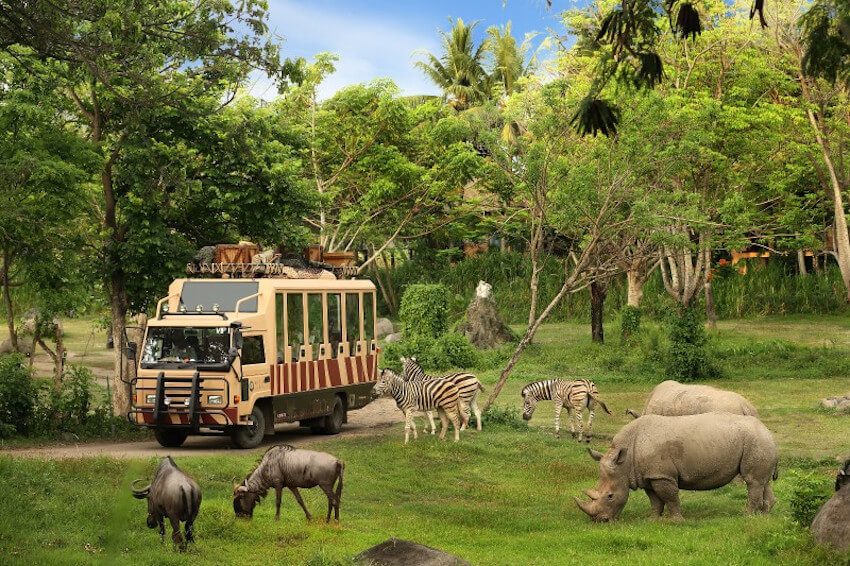 If you ask your friends who visited us before, they'll surely mention the Safari Journey. This is the main attraction and the major reason people want to visit Bali Safari Park. Our unique tour inside the giant enclosure, where our wildlife lives, will definitely redefine your 'zoo' experience. Surely one of the best Bali Safari package to consider.
In fact, Bali Safari Park is distinct from a zoo. In a zoo, the wildlife is on display, but in Bali Safari Park, the reverse is true! You will be inside a Safari Tram, a kind of special bus that takes you inside the enclosure. The Safari Journey is included with all the packages.
The Popular Packages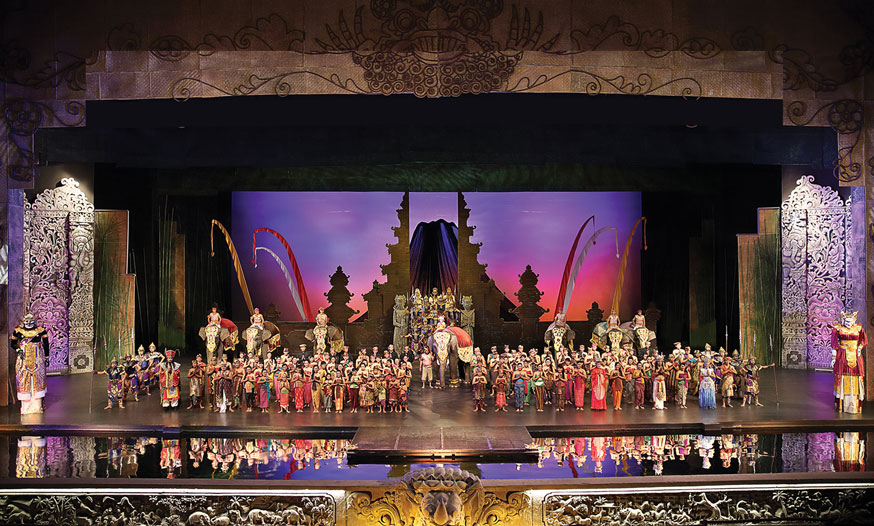 You will be presented with four options: Jungle Hopper, Dragon, Leopard and Rhino, each seemingly similar packages but with varying prices. Let's check out the differences.
Jungle Hopper is the most basic popular package. You can expect the following:
Safari Journey (1x)
Fresh Water Aquarium
Animal Show
Harimau Show
Elephant Show
Bali Agung Show (Silver Seat)
Waterpark
Afternoon Tea at Uma Restaurant
The Dragon package upgrades the Afternoon Tea to a Lunch at Uma Restaurant. The Leopard package additionally includes an Elephant Ride and an upgrade to a Gold Seat for the Bali Agung Show.
The Rhino package gives you a complete set of daytime activity experiences – Lunch at Tsavo Lion Restaurant, 30 minutes Elephant Ride, Platinum Seat at Bali Agung Show, and an unlimited Safari Journey on the express line.
4 x 4 Upgrades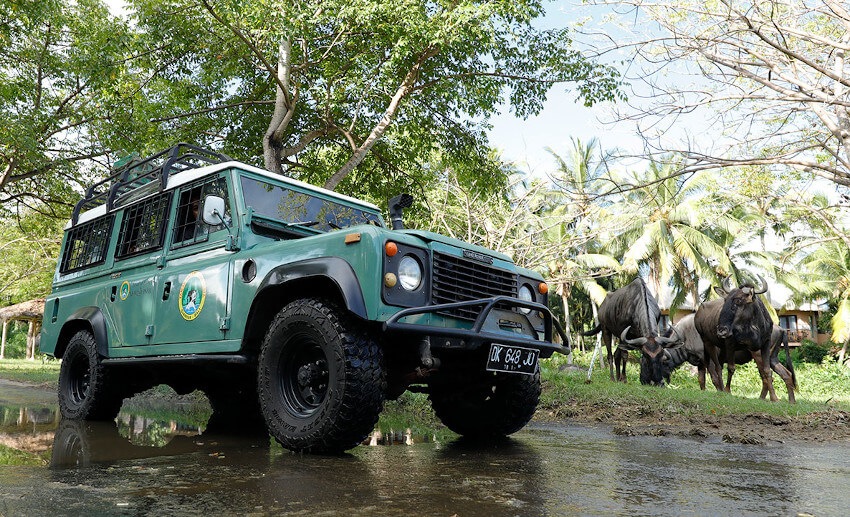 Want to go on the Safari Journey in style? There are many more benefits to riding a Jeep than simply looking cool. It's a private tour ideal for families, friends and couples! You can take your time to stop and take photos from inside your vehicle. Under the Safari Ranger's supervision, you can even feed some of the African herbivores roaming in the savannah.
The Leopard and Rhino packages are can be upgraded.
Elephant Back Safari
Just like the Rhino package, you are able to go on an unlimited Safari Journey. In addition, spend your day with the largest, most intelligent and empathetic mammal on Earth, the elephant!
A souvenir is included with every purchase of the ticket.
If you are interested in one of these daytime activity packages at Bali Safari Park, you can get yours today at 10% discount when you book from our official website. Follow this link to the booking page.
Of course, if you want to visit the park other times of the day, read on.
Night Safari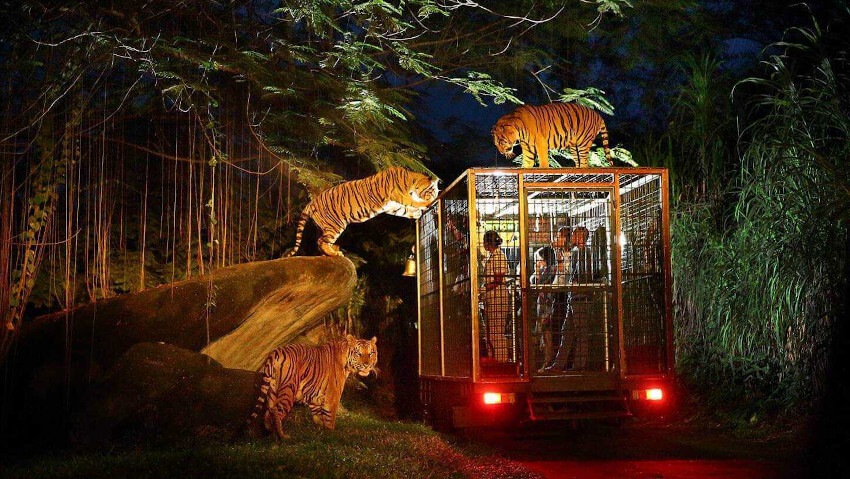 Most predators and some herbivores are nocturnal in the wild. This means that they are more active during the night. A Night Safari is a good chance to see your favourite carnivores become more engaged and active when they are usually comfortably lazy during the day.
Here is everything you can expect from the Night Safari:
Welcome Drink
Walking Safari
Night Safari Journey (1x)
BBQ Dinner at Nkuchiro Restaurant
Afrika! Rhythm of Fire Show
Natural Wildlife Encounter
Breakfast with Lions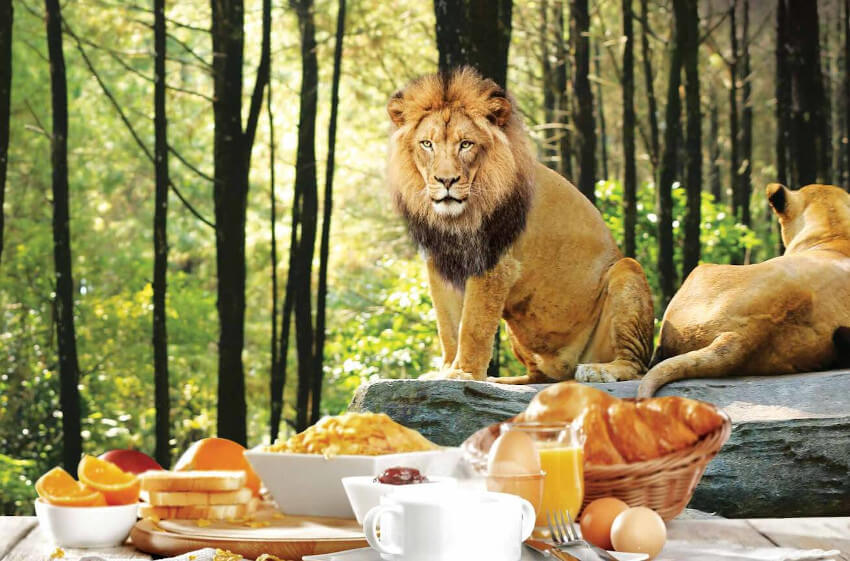 Are you a morning person? It's true when they say that the early risers get the best view, and nothing beats the view of a pride of lions having their breakfast while you have yours.
The Tsavo Lion Restaurant serves breakfast 8:30 – 10:00 AM. Start your day with an exciting five-star breakfast with a five-star view. Afterwards, don't leave just yet. You'll be invited to go on a Safari Journey included in your Breakfast with Lions ticket.
You can purchase some variations of the ticket. You can include the Elephant Back Safari or Giraffe Feeding, which will add to your already awesome day.
Which package do you think is the most exciting? Bali Safari Park is a more than an animal park. Behind the scenes, we put great effort into reviving the Bali starling population, restoring the Asian elephant population, protecting orangutans from poachers, and much more! Be sure to check out our official website to learn more about the adventures!