Perayaan Natal dan Tahun Baru (Nataru) merupakan momen yang paling dinanti untuk berlibur bersama keluarga dan kerabat. – Kali ini sahabat satwa tidak perlu bingung jika ingin mencari tempat liburan yang pas. Sahabat bisa datang ke Bali Safari Park!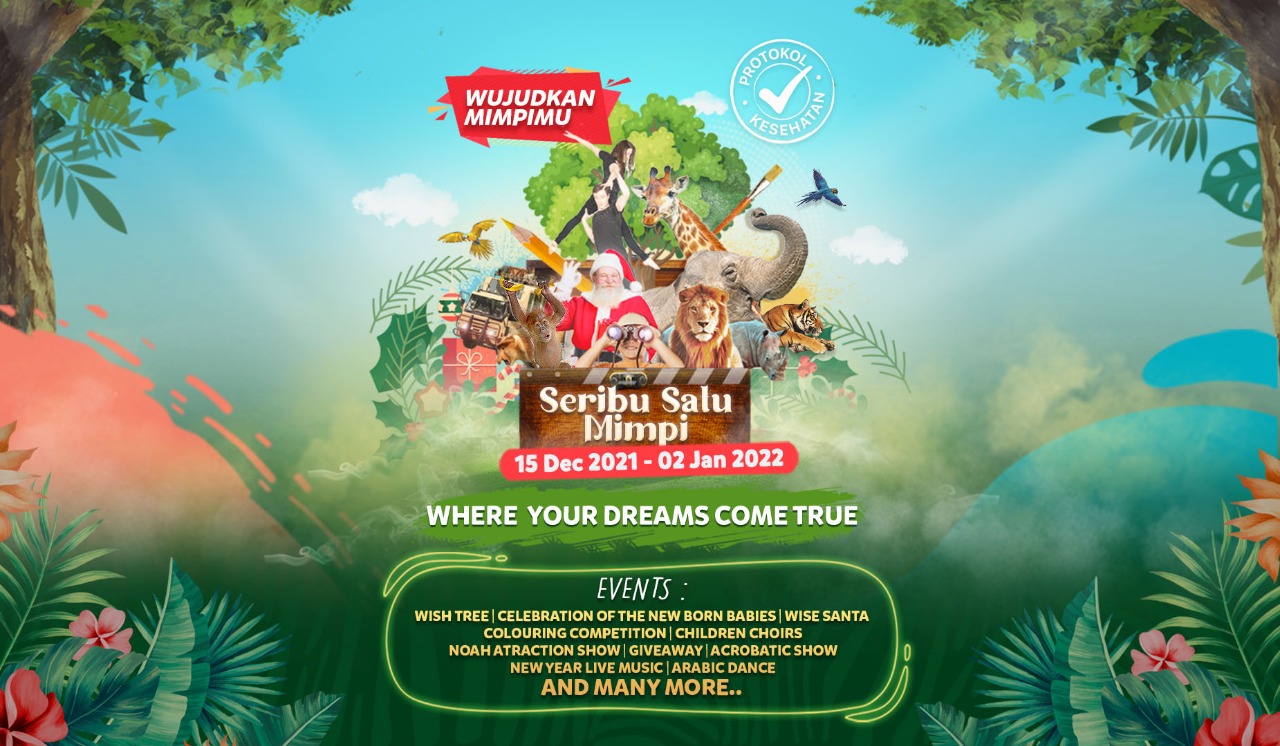 Bali Safari Park menghadirkan sesuatu yang berbeda khusus menyambut Nataru, yakni event "Safari 1001 Mimpi". Apakah sahabat satwa penasaran tentang keseruan event tersebut? Mari kita bahas satu persatu rangkaian acara yang akan dihadirkan, dan tidak lupa simak promo menarik special Nataru:
Thousand of Miracle Tree
Saat ke Bali Safari Park, sahabat bisa menuliskan harapan di tahun 2022 untuk kemudian digantungkan di Wish Tree (Pohon Harapan). Ada hadiah menarik apabila sahabat mengupload foto selfie di area Wish Tree. Segera cek Instagram kami untuk info selengkapnya!
Celebration Of The New Born Babies
Penghujung tahun juga menjadi momen menggembirakan karena lahir tiga bayi satwa. Ada dua ekor Striped Hyena jantan (29/10), satu ekor Pygmy Hippo betina (21/11) serta satu ekor Zebra Chapman (22/11). Bayi-bayi satwa saat ini masih dalam pengawasan serta perawatan khusus dari tim dokter hewan dan keeper.
Wise Santa & Children Choirs
Sahabat bisa bertemu dengan Santa Claus di Bali Safari Park saat Hari Natal (25 Desember 2021). Sahabat satwa bisa mendapatkan hadiah spesial oleh Santa Claus apabila menuliskan harapan di Wish Tree. Berbagai nyanyian natal juga dilantunkan oleh Children Choirs di beberapa venue menambah semarak natal!
 Colouring Competition
Khusus sahabat satwa cilik usia 7-9 tahun, ada lomba mewarnai menyambut "World Wildlife Conservation Day" di event Nataru kali ini. Lomba akan dilaksanakan hari Minggu, 26 Desember 2021 mulai pukul 09.30 WITA di Wantilan Ganesha. Sahabat bisa memenangkan hadiah utama voucher menginap di Mara River Safari Lodge, lho!
Acrobatic & Atraksi Show "Noah Sang Penyelamat"
Atraksi Show mengangkat cerita Noah, seorang anak desa pecinta alam yang menghadapi musibah dimana banyak pelajaran yang dapat diambil. Sahabat juga bisa menonton Acrobatic Show yang menampilkan seni keseimbangan dan ketangkasan. Kedua Show ini bisa sahabat saksikan tanggal 25-26 Desember 2021 mulai pukul 12.30 WITA di panggung Hanoman.
Arabic Dance
Sahabat yang melakukan aktivitas Night Safari bisa menikmati pertunjukkan spesial Nataru. Pertunjukkan Seni Tari dari Timur Tengah yang menampilkan kepiawaian penari bisa sahabat saksikan di hari Jumat, 31 Desember 2021 pukul 20.15 WITA.
Dinner & Brunch, Live Music Special Nataru
Sahabat bisa menikmati berbagai promo menarik spesial Nataru di Tsavo Lion Restaurant. Promo Set Dinner bisa dinikmati tanggal 14 & 31 Desember 2021 mulai pukul 19.00 WITA. Promo Buffet Brunch di tanggal 25 Desember 2021 & 1 Januari 2022 mulai pukul 12.00 WITA. Untuk info lengkap sahabat bisa cek Instagram Tsavo Lion Restaurant!
PROMO MENARIK SPESIAL NATARU
Berbagai macam promo tiket Bali Safari spesial Nataru yang bisa sahabat dapatkan melalui pembelian Website dan Whatsapp! Sahabat bisa langsung cek website atau bisa memesan melalui Nomor Whatsapp 0811-3811-0400.