When the sun goes down, what activity goes into your mind? – Do the Night Safari at Bali Safari Park might be a nice choice to try. The Night Safari is a special addition which give you a peak at the night life of your favorite animals.
Had been closed due to PPKM, finally Bali Safari Park is re-open following health protocol standards. We also bring back the most awaited activity for you who misses it.
The Night Safari consists of a walking tour and a journey tour. You get to ride a special caged tram and have the chance to feed our planet's wildest carnivores. Satisfy your senses with the unforgettable experience of a night in the wilderness. Here is what to expect.
You begin your thrilling adventure in the lobby of our African-inspired accommodation, Mara River Safari Lodge. You will be take on a specially designed cage tram into the wild African savannah. Upon an animal encounter, you have the liberty to hand feed the animals at a close range.
From witnessing zebras, elephants, and giraffes interact with each other in the dark, to watching the king of the jungle and fierce tigers roaming free and approaching you as they please, your evening is guaranteed to be packed with exciting moments! Bali Safari Park's Night Safari is a wildlife experience so close that you will practically feel the tigers breathing next to your cheek.
More uplifting programs have been added to enhance the existing this package and make this fun excursion much more memorable. A Walking Safari around the park, watching the fire dance performance, a drumming and puppet show titled Afrika, and the Rhythm of Fire show to wrap – then wrapping up at Nkuchiro Bar & Grill.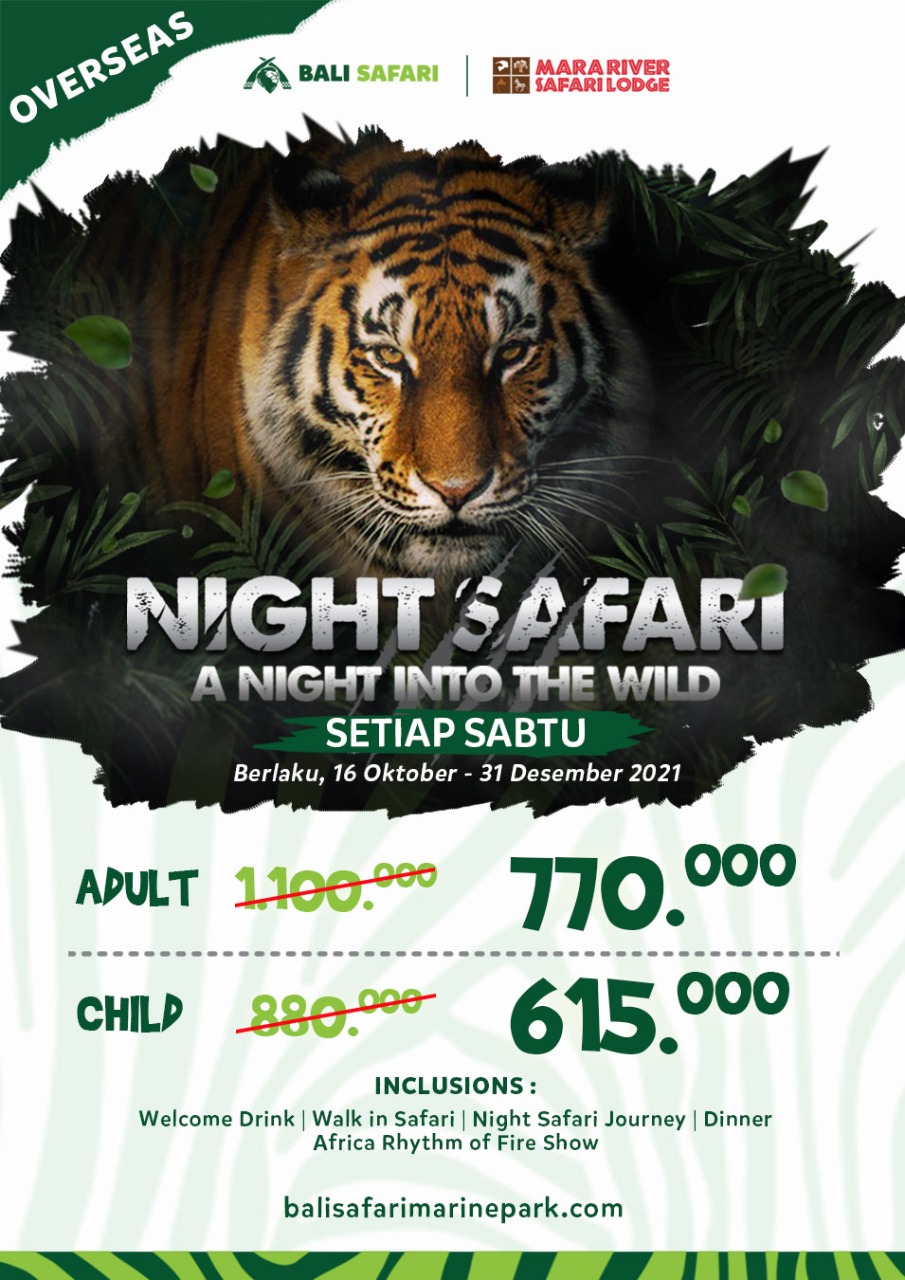 NIGHT SAFARI SPECIAL OFFER
Special offer for you who want to join this wonderful activity which starting at 6 PM. From the normal price IDR 1,100,000/adult and IDR 880,000/child aged 3-12 years, now with only IDR 770,000/adult and IDR 615,000/child aged 3-12 years, you can enjoy all the inclusions of the Night Safari. Please reminder that Night Safari only available on Saturdays and this promo valid until December 31, 2021.
Grab the ticket now on our official website. By comply with health protocols, immediately feel the exciting and thrilling experience of a night safari with Bali Safari Park!