Libur lebaran adalah momen yang selalu dinanti oleh banyak orang, terutama umat Muslim. Selain karena berbarengan dengan libur sekolah, dan libur lainnya. Juga sebagai momen yang tepat untuk pulang kampung dan berkumpul menghabiskan waktu liburan bersama keluarga.
Sekilas Tentang Bali Safari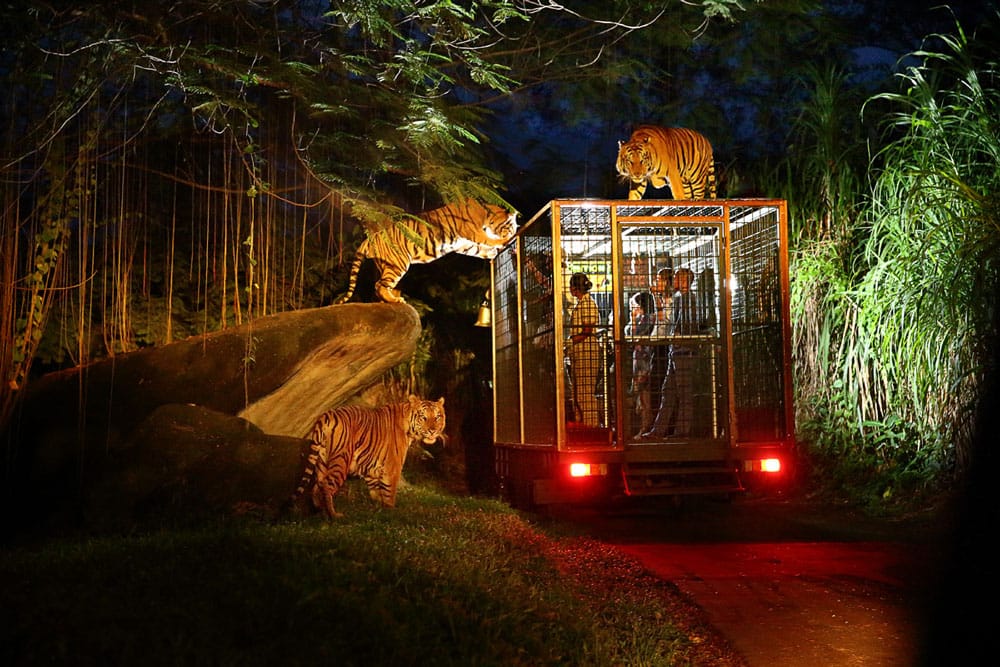 Bali Safari Park adalah taman konservasi yang misi utamanya adalah sebagai taman konservasi, edukasi, penelitian dan rekereasi, sambil menyediakan pengalaman yang unik bernuansa kebudayaan Bali di dalam park kepada pengunjung. Bali Safari Park juga ada Waterplay Zone, Fun Zone, restauran, dan fasilitas-fasilitas rekreasi lainnya, untuk memastikan pengunjung mendapatkan keseruan dan pengalaman yang menyenangkan. Di samping menawarkan wisata interaksi dengan satwa, taman safari ini juga adalah lokasi yang ideal untuk tempat berkumpul bersama keluarga selama libur lebaran.
Libur Lebaran di Bali Safari Park
Berkaitan dengan itu, Bali Safari Park memberikan aktivitas seru sebagai perayaan Libur Lebaran di Bali Safari, yaitu:
Safari Ramfest (Ramadhan Festival)
Safari Ramfest adalah sebuah festival untuk merayakan kemenangan dihari lebaran yang akan dilaksanakan pada tanggal 22 – 24 April 2023. Bertempat di Hanuman Stage, acara ini akan dimulai dari pukul 10:00 WITA hingga selesai. Dalam Safari Ramfest ini akan menampilkan musisi:
Jegeg Bulan
Tom's Music & Sound
Golden Mojo
Selain itu juga terdapat aktivitas-aktivitas seru lainnya seperti:
Spin to win
Fun Games
Catch your luck
Bali Agung Show
Untuk merayakan Eid Mubarak 1444 H, Bali Safari Park mempersembahkan program special: The Bali Agung Show dari 21 April sampai 1 Mei 2023. Teater ini akan dipertunjukkan setiap hari di pukul 14:30 WITA. Cerita ini berdasarkan cerita legenda cinta segitiga antara Raja Jaya Pangus, Kang Ching Wie putri dari kerajaan Tiongkok, dan Dewi Danu.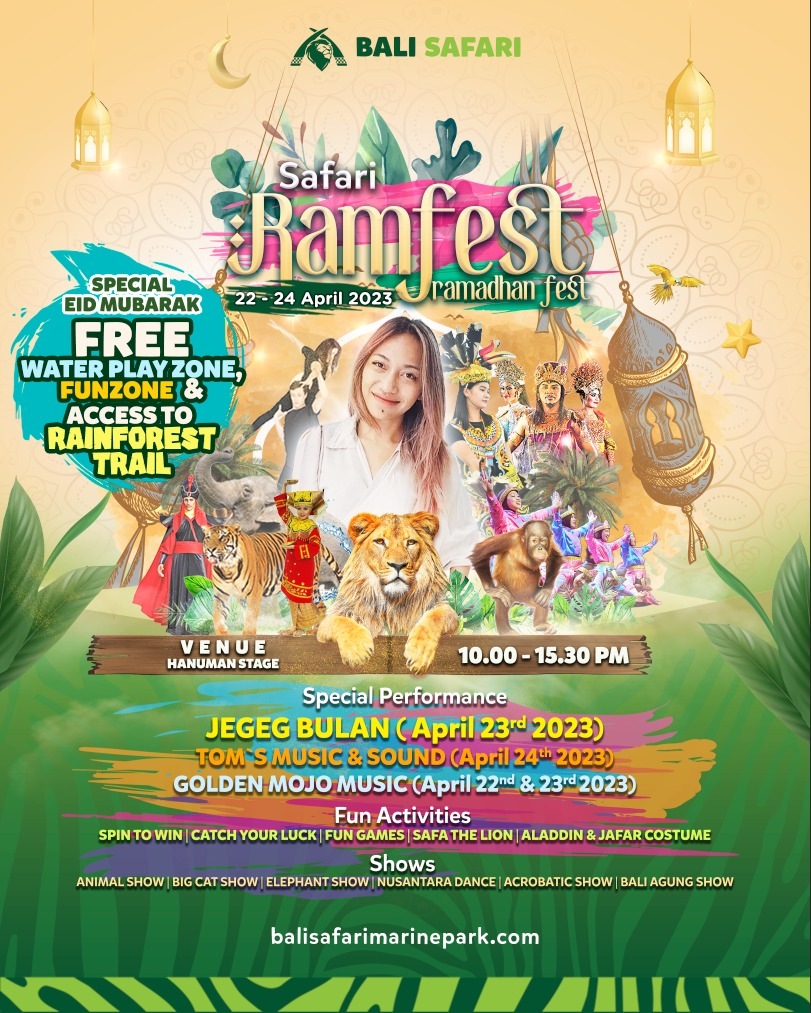 Upcoming Rainforest Trail
Rainforest Trail adalah atraksi baru dari Bali Safari Park. Mengusung tema hutan hujan (rainforest), pengunjung akan dibawa pada suasana khas hutan hujan tropis yang rimbun dan lembab beserta satwa-satwa khasnya seperti di antaranya jaguar, black panther, spotted deer, berang-berang, dan lainnya. Rainforest Trail menjanjikan pengalaman yang berbeda bagi Anda para penyayang satwa dan pencari petualangan.
Mulai 20 April 2023, Anda dapat berpartisipasi di Rainforest Trail Safari dan menyelesaikan banyak misi-misi seru yang menanti Anda untuk memenangkan hadiah-hadiah menarik.
Promo special peluncuran Rainforest Trail, pengunjung yang berkunjung dari tanggal 20 – 30 April akan mendapat kemudahan akses gratis ke Waterplay Zone dan 1x naik wahana bermain di Fun Zone.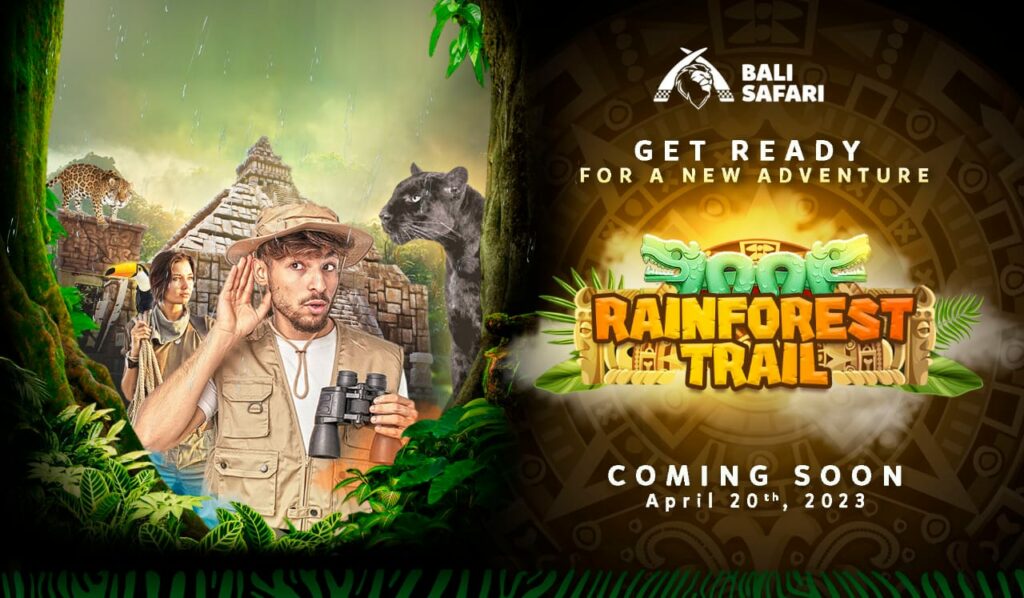 Mau tunggu apa lagi? Segera pesan tiketnya sekarang juga!