No matter where you travel for your holidays, Christmas is about sharing joy with your loved ones wherever you are. Despite not being a popular tourist destination by the book, – not as much as Kuta and Jimbaran – Gianyar can still be that hidden shining star on a Christmas tree. It is an underrated and family-friendly region in eastern Bali, so you can expect to find lots of activities to do here.
Hearty Christmas meals, the local way
Nothing says "Merry Christmas" more than a table full of delicious warm meals to share with everyone. Visit the famous night market, Pasar Senggol at Gianyar city, and spoil yourself and your family with an extraordinary Christmas meal from the local food menu. With just US$5, you can literally fill the table with plates full of a wide variety of food.
Try the classic babi guling, a rice set with vegetables, sambal and roast pork slices that's been prepared in numerous ways. Eat them with pork bone soup, fried pork skin and herbs. It's a little bit of everything on one plate. For vegetarians,  tipat cantok can be a treat. It's mixed vegetables with peanut sauce and sticky rice, garnished with grated coconut.
Hunt for souvenirs at Sukawati Art Market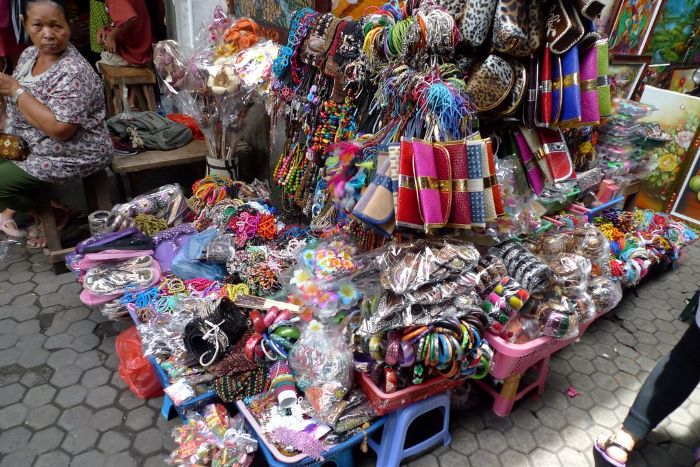 This art marketplace at Sukawati, Gianyar is different compared to the ones you might frequently come across in places like Kuta and Legian. In this dedicated market, artists and craftsmen sell directly to you. Lacking a middleman, and with a relatively cheaper rent space, what you'll get are fairly priced souvenirs.
Browse through a local gallery of natural landscapes, animals, and people. You can still bargain for these items, including handmade traditional products such as wicker handbags, baskets and aroma-therapeutic candles.
Enjoy a family beach party and fireworks
The locals believe that fireworks drive evil spirits away, and Indonesians light up fireworks on any calendar holiday. Even if it's not yet New Year, you could shamelessly light up fireworks on Sanur beach at night time, away from the crowd. You can also find bars and music that open all the way through the night during this special time of year. Rest assured that your family will not be bored by the festive atmosphere on this beach, as it is one of the most popular destinations on the east coast.
Enjoy a Christmas retreat at Mara River Safari Lodge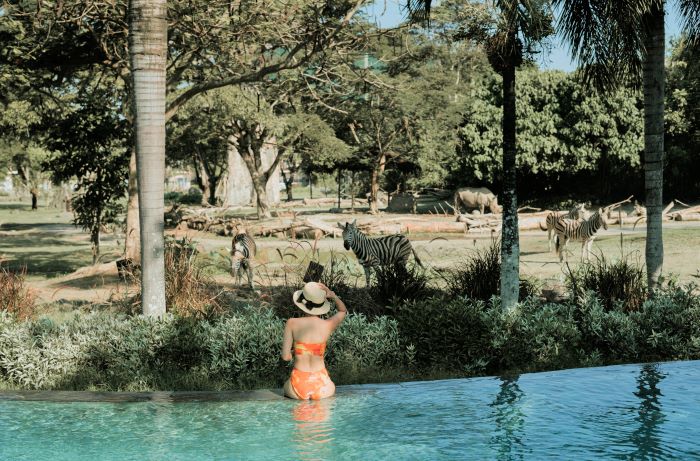 Refresh yourself on Christmas Day at Mara River Safari Lodge. You'll find African wildlife grazing in the morning beyond the stream when you open up the terrace doors of your accommodation. Enjoy a hefty breakfast in Tsavo Lion Restaurant, where you can dine together with your family and watch the lions have their breakfast as well. Mara River Safari Lodge comes with complimentary access to Bali Safari Park. Which makes the next point a logical continuation…
A private family Safari tour on a 4×4 Land Rover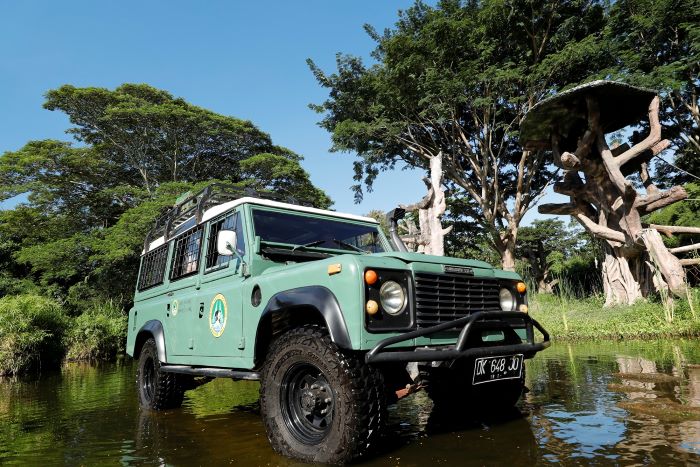 4×4 The Land Rover is a package specially designed for families looking for quality time in private. Not only will you have a chance to ride off-road into the habitats, you can also take in the wonderful world of wildlife at your own pace…. and there's more! The package includes a ride on an elephant, professional photoshoot, and a full course traditional Balinese cuisine at the Uma Restaurant.
To learn more about the various exciting Safari tour packages, check out our official website for Bali Safari Park. Have yourself a merry little Christmas, and let your heart be light!