Shows and live theater are not just something that fills your spare time after seeing all the wildlife at Bali Safari Park. They're the perfect complementary addition to a full day of learning, especially for children.
Not only does live theater offer memorable and colorful experiences that engages the senses, but much research has also shown that live theater is good for your children's social and intellectual development.
Watching and experiencing the same thing together promotes connection
Live theater, first and foremost, strengthens the bond between family members and friends. It is an enjoyable experience shared together in the same quality time and space. Think about the last time you went on a road trip. Why was it enjoyable?
You, your friends and your family are seated in very close proximity, traveling together, experiencing the same sights and music. Any experience that happens along the way shared with emotions and thoughts. This kind of emotional experience is also found while watching live performances.
Sociologists explain that when people behave similarly, they perceive each other as more alike, which creates attachment and connection. The difference between a road trip and live theater is that the outcome of a road trip is random and unknown – some people dislike each other after a disastrous road trip. But the outcome of a live performance is always consistent – it promotes friendships and connections and brings people closer together.
Live theater explores themes that become teaching opportunities for children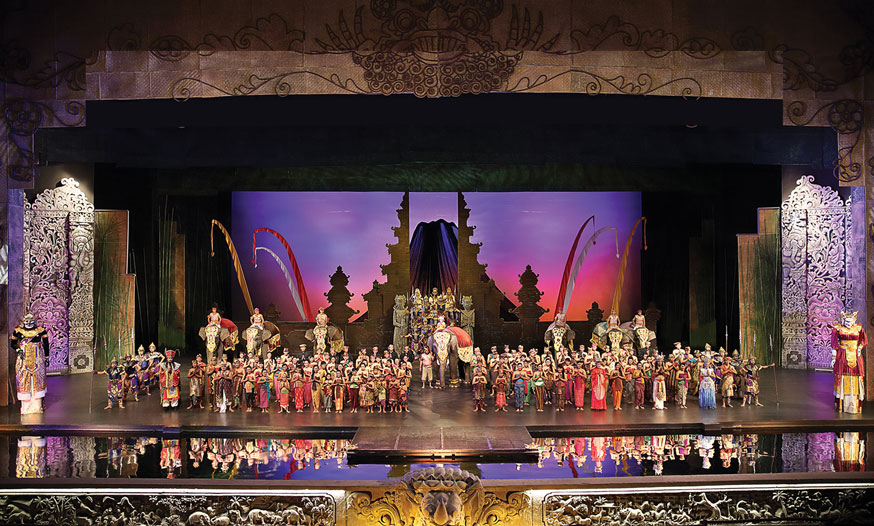 The Bali Agung Show recounts mythology that local Balinese people are familiar with. It is the story about a king who devastated when he discovered that he could not have an heir with his wife. He made a journey alone until he found himself stranded on an island, and then seduced by the goddess of fertility, Dewi Danu until she bore the King's child.
The director of this show has dedicated much time and effort to create a performance that can be enjoyed by people of all ages. After all, this story traditionally told to young children by the older members of the family.
From the Bali Agung Show, your children presented with themes that can relate to them: disappointment, frustration, revenge and love. Older children can find themes about infidelity, betrayal and temptation.
These are topics that can be difficult to initiate in a conversation, even between parents and their children. Developmental psychologist Dr. Kirkham wrote that live theater can help children, parents and teachers to engage in a dialogue, and close the gap of understanding between what the adults and children perceive about the topic.
For example, it might be difficult to talk about divorce. The Bali Agung Show explores the king's infidelity, which might act as a proxy to begin an honest conversation about marriage, unmet expectations of each couple, and much more.
Don't miss the spectacular cultural performance that fuses traditional and modern theatrical arts. The Bali Agung Show recounts the myth of hope and tragedy in a heroic legend of King Sri Jaya Pangus and Queen Kang Ching Wie. Visit our official page to learn more.