December is set to be an exciting time here at Bali Safari Park with multiple exciting holidays to look forward to such as International Monkey Day and Visit The Zoo Day which is just around the corner on the 27th of December 2020!
The Internationa Monkey Day and Visit Zoo day is the perfect extension to the Christmas holidays here in Bali, especially for families with little children who are looking for educational, fun, and mindfully stimulating activities for their little ones.
Technically, Bali Safari Park is not a zoo – we're the largest wildlife conservation and rehabilitation organization here in Bali. As a member of SEAZA, we care for endangered and non-endangered animals from around the world who live in large, open spaces that were designed to mimic their natural habitat. Here at Bali Safari Park, all the animals are well-loved, cared for, and well-fed. We work hard to ensure that they are as healthy as possible as they exercise their natural wild-animal instincts to the fullest. Bali Safari Park is at the frontline of wildlife conservation in Indonesia and is home to over 100 animal species!
So, if you're looking for a one-of-a-kind animal safari adventure this Visit The Zoo Day, then be sure to head on down to Bali Safari Park! You'll get to come face-to-face with the world's most beloved wild animals such as elephants, tigers, lions, giraffes, zebras, monkeys, apes, birds, the Komodo Dragon, hippos and even the rhinoceros with our Safari Journey feature that takes you around the park with a safe and secure, specially-designed tram.
The little ones will learn so much while having fun at our Fresh Water Aquarium, Petting Zoo or by interacting with the Meerkats. They can also cool off at our Waterpark that comes with slides and exciting water features while parents relax with a delicious Afternoon Tea at Uma Restaurant.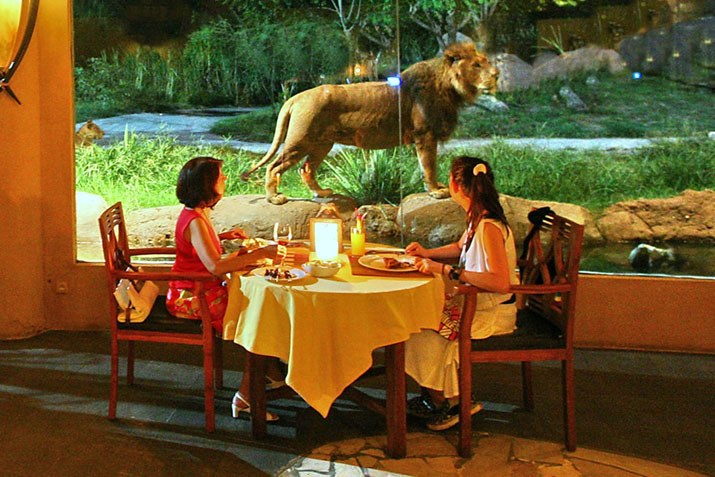 While you're here, why not Dine With The Lions? We offer a delicious international menu at the Tsavo Lion Restaurant, where you can immerse yourself in Bali's first-ever African-themed restaurant which is located side-by-side to the lion's enclosure. While you dine, you'll get to see the lions as up-close as you possibly can from behind the glass. Imagine how excited the little ones will be! Also located at the Tsavo Lion restaurant is the Meerkat enclosure – let your kids engage with these curious animals!
All this and more await you at Bali Safari Park, here in Gianyar Bali. We're currently offering a 30% discount on all entrance tickets, while children under 3 years old can enter for free. Our park is also wheelchair friendly. To book your tickets and to find out more, please click here or just come on down and visit us onsite!