Bali Safari Park has been closed this past month. This is part of our effort to stop the spread of the coronavirus, and to ensure that our guests, staff, and animals are safe from COVID-19.
We do not yet have an exact date for when we will open again, we are strictly following guidelines from the government on the best actions to take in this unprecedented time.
While our guests and many of our staff are staying at home, we are still hard at work to ensure that our beloved wildlife is comfortable and healthy in their home at Bali Safari Park.
We have received many questions about how our wildlife is doing, how we are continuing to care for them, and how this transition is affecting the park. Therefore we would like to use this opportunity to answer your questions.
Missing our wildlife? They're going online and live on Facebook and Instagram. Check the schedule below.
Is the wildlife at risk of the coronavirus?
There have been a number of cases of COVID-19 in cats and dogs, as well as in big cats in some zoos. Further investigations confirm that these animals contracted the disease from pet owners and keepers who are COVID-19 positive.
There is currently no evidence of transmission of the coronavirus from animals (that have contracted the disease from humans) back to humans. The Centers for Disease Control and Prevention considers the chance of this happening to be very low, although investigations are still underway.
We are ensuring that our vets, keepers and our wildlife remain safe by following hygiene and physical distancing protocols. Keepers and vets still work closely with our wildlife, but even so, our protocols that protect the staff will also protect the animals.
How to ensure that the animals and staff are safe from the virus?
In the wild, infected animals tend to recover quickly, because the population's collective immune system has adapted to the virus.
Similarly, our animals' inherent immune system, standard vaccinations, proper diet, and living conditions have given them the ability to guard against diseases such as COVID-19 and to recover from them quickly if they are infected.
We are regularly reviewing their diet and looking for signs of infection and symptoms of not just COVID-19, but also diseases that they are prone to.
We continue to disinfect the park's buildings and grounds, keep the animals clean, and regularly monitor their health and behavior.
However, we are also concerned with the safety of our dedicated staff who need to be present in Bali Safari Park to take care of the animals. They are more prone to contracting COVID-19 from other people in their community.
We have therefore taken strict measures to protect our staff and to provide them with safety equipment, such as masks, hand sanitizers, gloves, and other protective gear, especially for our vets.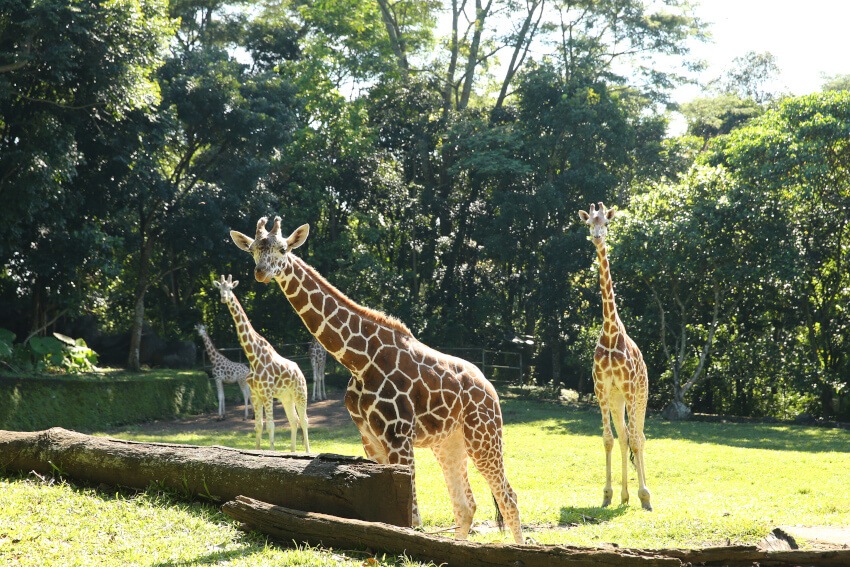 We're Going Live on Facebook and Instagram!
You can still get to know about your favorite animals by checking out our Instagram and Facebook story feeds!
Remember, we are live three times a week, same times every day on these days:
Set your alarm for 13:00 Bali Time for Instagram Live and 13:30 Bali Time for Facebook Live.
Get ready to virtually meet your favorite wildlife – meerkats, probosci's monkeys, orangutans, giraffes, hyenas, rhinos, sun bears, and many, many more!